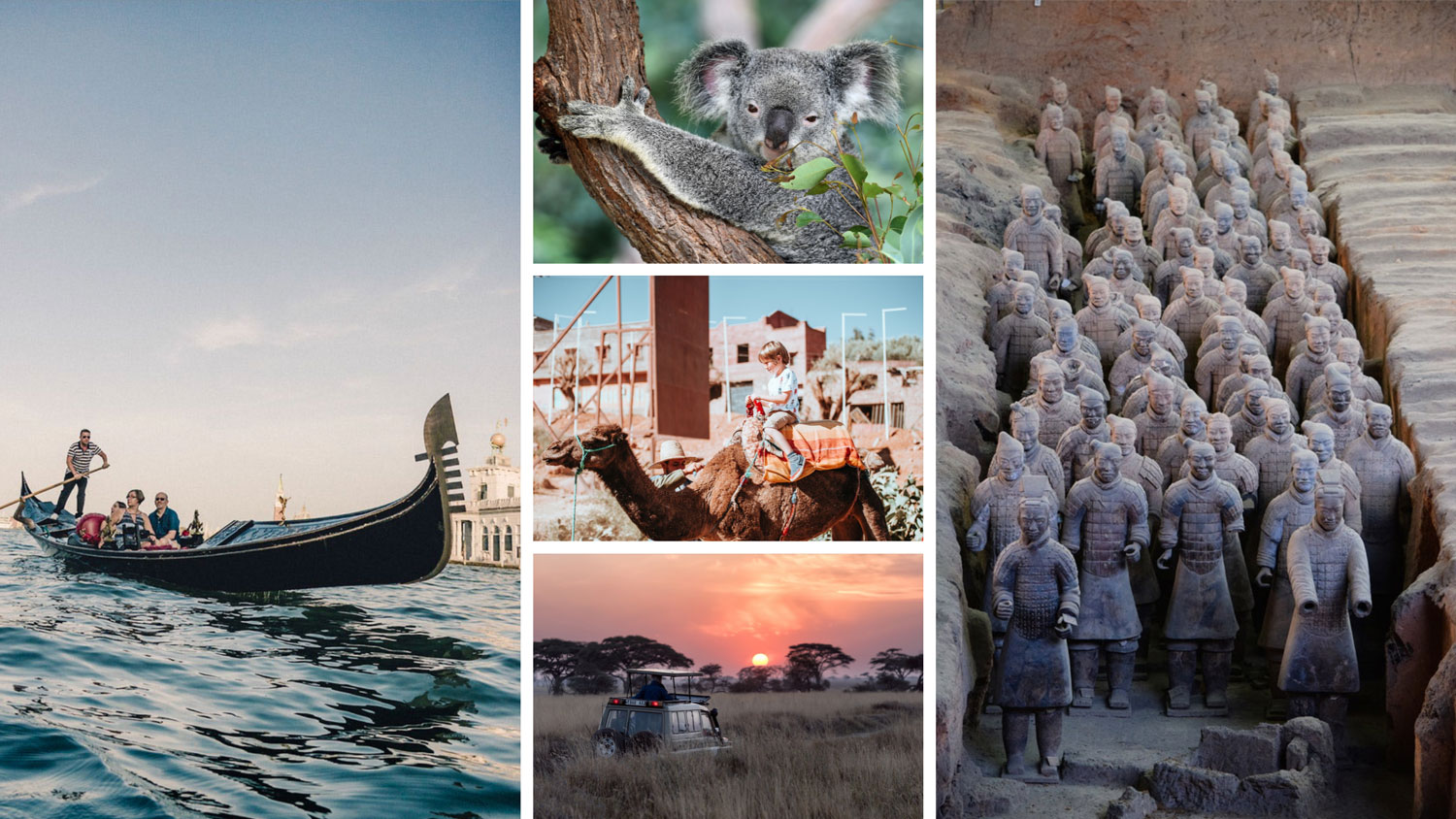 Have passport, will travel? Are you the adventurous type that wants to see the World? The Travel Gals Travel Agency can help you get there... whether it's a week in London & Paris, an African Safari, hiking the Incan Trail or a two-week cruise circumnavigating Australia, we have a specialist on staff. Here are some great ideas for travel internationally.
Costa Rica & Latin America
Explore ancient forests by boat and search for exotic animals including mischievous monkeys, beautiful birds and giant sloths in Tortuguero National Park. Zip line through treetops and soar across the sky above the rainforest canopy. Learn to live off the land at a real working plantation! Discover Costa Rica's spirit of environmental respect and meet the people who live and work the earth every day. Looking for adventure? Shoot down roaring rapids and bob over gushing waters on the Tenorio River as you glide past a forest full of exotic creatures. Costa Rica has all this and more to offer.
Panama offers an incredible variety of world-class attractions - exotic tropical rainforests, beautiful mountain refuges, Caribbean-style beaches, 1000 islands, seven living Indian cultures, a sophisticated capital city, Spanish colonial historical sites, and of course, the Panama Canal. A sovereign, fully democratic country, Panama is a top destination for adventurists, eco-tourists, history buffs, beach lovers, families and romantics.
There are many ways to see Europe, and many parts of Europe to see, so depending on where you want to go, we can design a custom itinerary just right for you. You can do a Mediterranean Cruise onboard our recommended cruise lines including Princess, Holland America Line, or Celebrity, or perhaps a River Cruise down the Danube with AMA Waterways. Perhaps you want to city hop from London to Paris to Rome... we can put together a package with airfare, hotels and some local sightseeing that will give you plenty of time to explore on your own.
Experience all that Australia and New Zealand have to offer with an in-depth Princess Cruises land & sea cruisetour vacation. Venture into the remote Australian Outback and marvel at the exotic wildlife, landscapes and native cultures. From Sydney's iconic opera house and harbor to the stunning Great Barrier Reef, the lands Down Under are filled to the brim with treasures. Whether you're getting a glimpse of Tasmania's wildlife, immersing yourself in Maori culture, snorkeling among brilliant corals or enjoying a breathtaking cruise through Fiordland National Park, your cruise to Australia & New Zealand is sure to be unforgettable.
Travel with Collette Vacations on their Kenya Family Safari. The thrills of the African plains will captivate the entire family. Set out in search of the legendary "Big 5" along with giraffes, zebras, antelope and more! Wake up with the sun in the Masai Mara, feed a Rothschild giraffe, and visit an elephant orphanage. Stay at the world-famous Sweetwaters Tented Camp and spot animals drinking from the watering hole. Visit a Chimpanzee Sanctuary to see this highly endangered animal. Discover a different way of life inside a Masai village. Explore the teeming biodiversity of the Kigio Wildlife Conservancy. Expert led hikes, local conservation efforts, tales of Masai warriors, breakfast in the bush - every day is an adventure as the spirit of Kenya envelopes you!